Novelty ATM Receipts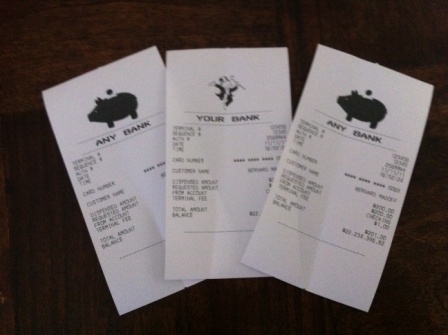 Imagine being able to give a potential date your number on the back of an ATM receipt with a huge balance- let's face it he/she is a lot more likely to call. Here at SalesReceiptStore.com we give you the option of getting personalised novelty use ATM receipts. These can be used for pranks, stage or film use - or for getting a date.
The easiest and cheapest way to get customised fake ATM receipts is to use a fake ATM receipt template and edit it yourself and get us to print it - it's a word document- customise them yourself by saving the file and changing the details as necessary - dates, amounts, card numbers, name, bank etc - create up to 15 of these and email them to us and we'll print them and mail you copies of them for $14.99 - that's less than $1 each - not bad for an almost guaranteed hot date.
Here's how it works:
You download (for free) any of our MS Word ATM Receipt Template.
You edit it - replace the name of the bank name, customer name, dates, amounts etc. Save up to 15 different versions of the fake ATM receipt.

Purchase a Printing Voucher here (for US$14.99) - and we will print up to 15 fake ATM receipts for you and deliver them to your door included in the price.
Email us the word documents with your fake receipt details on them, along with your Purchase Reference.

Your fake ATM receipts are printed on real receipt paper. You receive it within days of ordering by express post.
Or if you want us to create them for you, we'll create a custom ATM receipt for you for US$39.99 - use the payment at our full design service page, and just drop us a line afterwards. If you want us to replicate an ATM receipt from your bank, simply email us a photo or scan of it, and we can usually make a very close replica.