How to make fake receipts?
Free Fake Receipt Templates - click here
Fake Receipt Fonts



We are often asked what fonts are used in till receipts
One great one we found is Merchant Copy - it's very similar to the credit card receipt font - it available on the link free (for non-commercial use)
Fonts: We recommend you use BOLD fonts as they print better.
Another Good One is 'Fake Receipt' Font - it's an ALL CAPS receipt lettering font


How to Add Logos And Barcodes to your Fake Store Receipts?
The easiest way to get a store logo is to go to their website, and right-click on their logo, and select 'Save Picture As' and then save it in the appropriate folder on your PC (Possibly the same folder as you have saved your fake receipt templates in).
Then when editing your MS Word Receipt Template - click on insert, then select the logo from the folder you have saved it from (this can be resized with word).
Another good way of finding store logos is by searching on Google Images:
Simple searches like 'Store Logos'
Add a barcode to make your fake receipt look real
To add a barcode to your site - you can use an Free Online Barcode Generator - Click Here
Or you can download a free program like this one DesignWorkz Barcode Maker 1.0
You can also install a barcode font - a free barcode font like this can make your fake receipts look really authentic


NB: If you are using our fake receipt templates, you must install this font first - Merchant Font - Available here Free - Make sure you install the full suite of fonts (doublesize, wide etc). Also install this free barcode font before using our fake receipt templates with barcodes.

If you need help with installing fonts - click on your operating system below.
For instructions on systems up to and including XP
For instructions on installing fonts in Vista - Click Here
For instructions on installing fonts in Windows 7 - Click Here
Exclusive to SalesReceiptStore.com
We have commissioned a perfect replica font of the most common receipt font used in the USA. Below are some samples of it.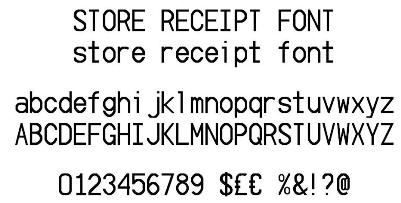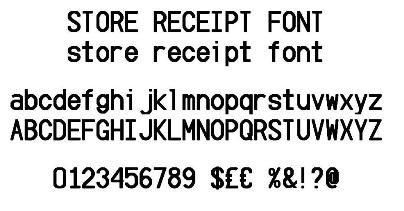 Tall Narrow Receipt Font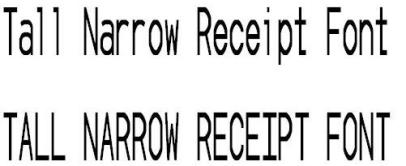 We can supply the above fonts to you in TTF for $100 - email us info@salesreciptstore.com