Custom Made Store Receipts
OPTION 1 We design and print your FAKE RECEIPT for $39.99 - Worldwide Delivery Included
- FOR NOVELTY/stage USE ONLY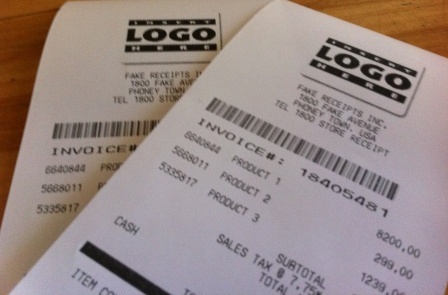 Do you want a fake store receipt printed on thermal paper? 100% authentic looking - see samples here
We will design, print and deliver to your door a fake store receipt - from any store worldwide, for any goods or service, for any amount. These fake receipts have 100's of uses. We can supply receipts for anything: Common receipt requests include: Sneaker Receipts, Designer Handbag Receipts, Department Store Receipts, Supermarket Receipts, Electronics Receipts, Restaurant Receipts
The process is simple:
1. Pay $39.99.
2. Email us the details of the receipt you want made (see below).
3. We make the receipt, email you a proof within 24 hours, you notify us of any changes needed.
4. Once you are happy we'll email you a scan and/or photos of the printed receipt and stick the physical copies of the receipt in the post to your home or office address. We usually include around five copies of your replica receipt.

You use them for whatever purpose you choose, we don't ask questions.
DESIGN, PRINT AND DELIVERY OF FAKE STORE or RESTAURANT RECEIPT includes Worldwide P&P
US$39.99




***Your credit card statement will read***
***"AW- ClontacaEnterprises+442033188334"***
When you have purchased, if you would be so kind to drop us an email with the information we require to draft your fake receipt:
Name of Store
Address of Store
website of store (if possible)
date of purchase
time of purchase
quantity and type of item purchases
total price per item (please state whether this is including or excluding the local tax)
local sales tax
Payment Type (Cash /Visa/MC etc we don't need card number)
Provide us with a scan or photo of the original receipt if possible - if you don't have one, don't worry, as we've done most major stores in the US, Canada, UK and worldwide, and have most of them on file.
We usually Print the Receipts on Plain White Thermal Receipt Paper - But We Can Print them on Pink, Blue, Apple Green or Yellow Thermal Receipt Paper - Simply Let Us Know if you want your fake receipt printed on colored paper.
************************************************************
Our Payments are Managed Securely by Allied Wallet
Refund Policy: All custom receipts are bespoke products, and therefore non-refundable.
For billing questions please call Allied Wallet at +442033188334 or Click Here
For Delivery Times, See our FAQ page.